Landscape Design & Installation
Your residential landscaping is about your personal space. My foremost concern in the beginning to help is to get input into what you want in your yard. What is your lifestyle? Is your backyard your sanctuary? Do you entertain often? Do you have kids? Would you like the sound of a water feature or the space a deck can create?
Once we've discussed your thoughts on a myriad of subjects, I produce preliminary landscaping drawings that talk about the spaces of your yard and how we might use them. What are the overall elements that we want to incorporate, and where are we proposing to place them? How are we going to overcome the hurdles that may be present? This is the time for us to talk about all of the important aspects that relate to a final design.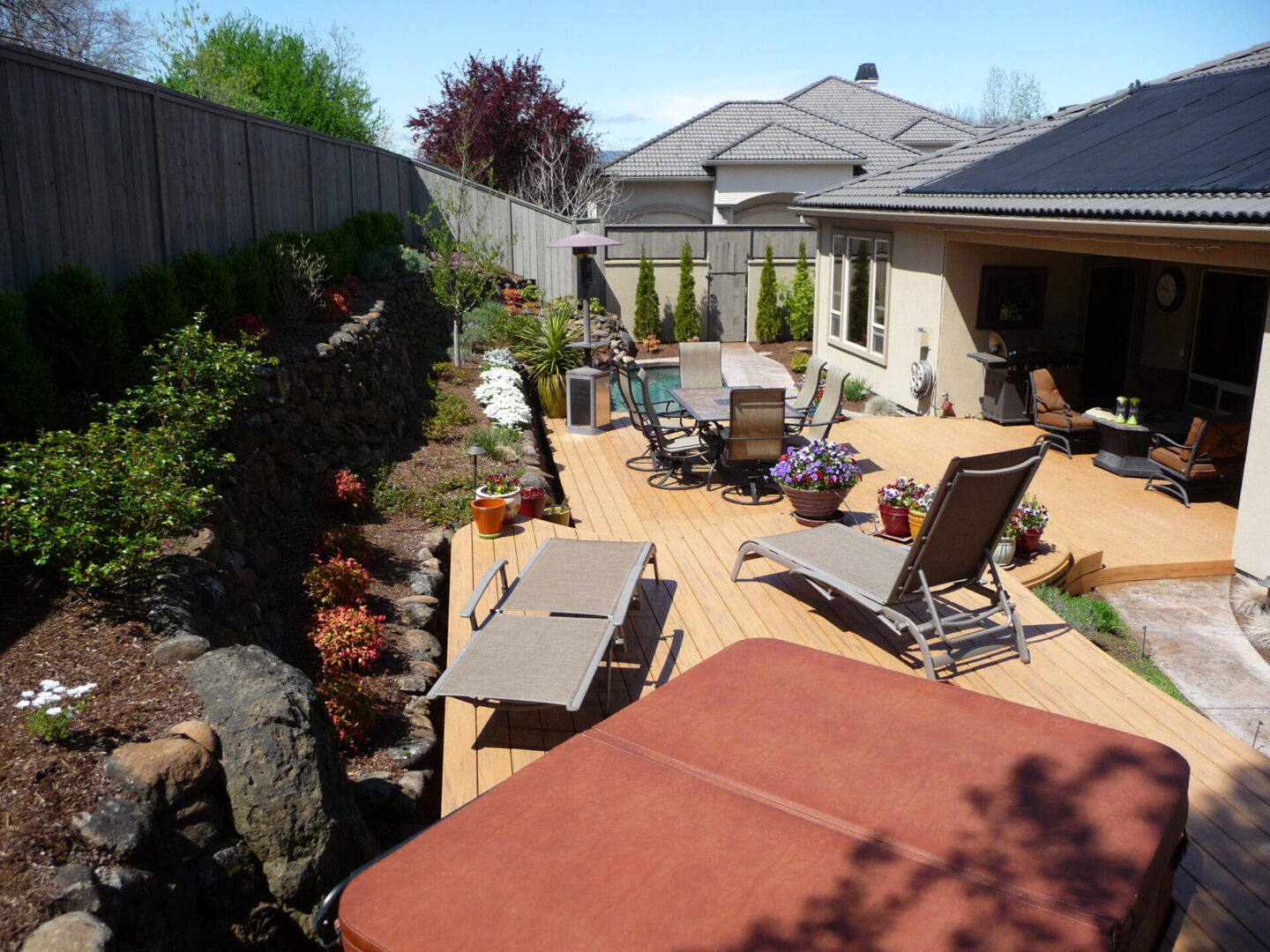 The final landscape design is a detailed document that will ensure that when you ask for bids from skilled, licensed contractors, you'll be getting competing bids that will reflect your wants and needs. It places and details all of the plant materials, rock walls, flagstone pathways, any and all of the pieces and parts that make your landscape uniquely yours.
It contains specifications that ensure everyone who might bid on your project is on the same page, seeing the same thing, and importantly providing bids that cover all that you want to be done. If you're choosing to do it yourself, a complete plan helps you to avoid doing a portion of the work only to realize there was another vital aspect neglected. It helps to keep you on track if you're doing the project in phases.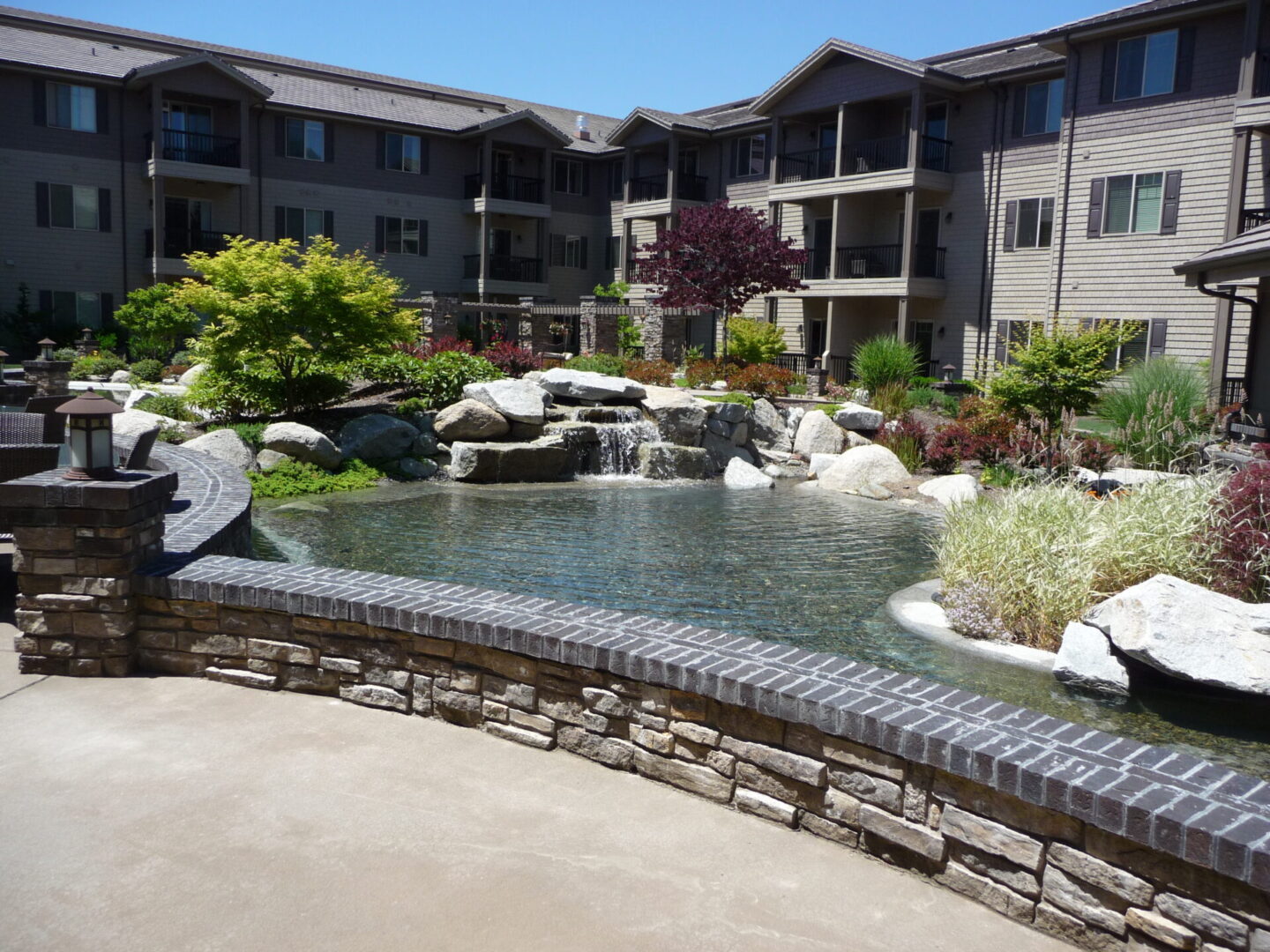 Most businesses want the same thing in their landscape design that a residential customer wants, a landscape plan that compliments their site while fulfilling their particular needs. Sometimes this may mean maintaining high visibility for customer traffic, screening to adjacent properties, traffic concerns, or managing stormwater run-off, to name just a few. Unlike a residential design, though, commercial designs are often a process that develops over time with the input from many sources.
These may include the property owner, the business tenant, site engineering, city codes and review information, handicap accessibility, environmental quality, utilities, neighboring properties, and more.
The commercial landscape design process is a collaboration between any number of parties and requires the ability to communicate with many other professions. In that I spent several years in the Landscape Construction end of the Landscape field before becoming an Architect, I have a unique background that allows me to understand the many other construction processes from a hands-on perspective.
This puts me in the position to be able to foresee potential problems and offer proactive, valuable solutions at the drawing stage. This past experience also gives me the ability to see when something is not right at the site and offer timely solutions that promote forward progress, all of which can streamline the construction process, lowering your overall costs.
The work done by Madara Design Incorporated can be seen throughout the Rogue Valley and includes sites at Bear Creek Corporation, Courtyard by Marriot, Burrill Development, S&B James Construction, Adroit Construction, and many small businesses.
Landscaping has the potential to change the way we view our environment, both literally and figuratively. Nowhere is this more apparent than in the public domain. Public spaces are often some of the most significant work a Landscape Architect can be involved with. They reflect on the community at large. They are often the focal point of public interest and an opportunity to tell the world around us who we are and what we value. Quality landscaping can invite us to engage with our neighbors and share our experiences. Parks, offices, and natural features benefit from the effects of a well thought out plan that adds to the surroundings and welcomes newcomers to our home.
Work with governmental agencies very often involves not just a single particular agency, but input from the public at large. This requires the ability of the landscape architect to take direction from a wide range of sources and formulate a landscape plan that addresses the concerns and needs of often competing points of view. Additionally, government landscape projects often have issues with funding coming from varying sources that require special attention from the planning phase through construction.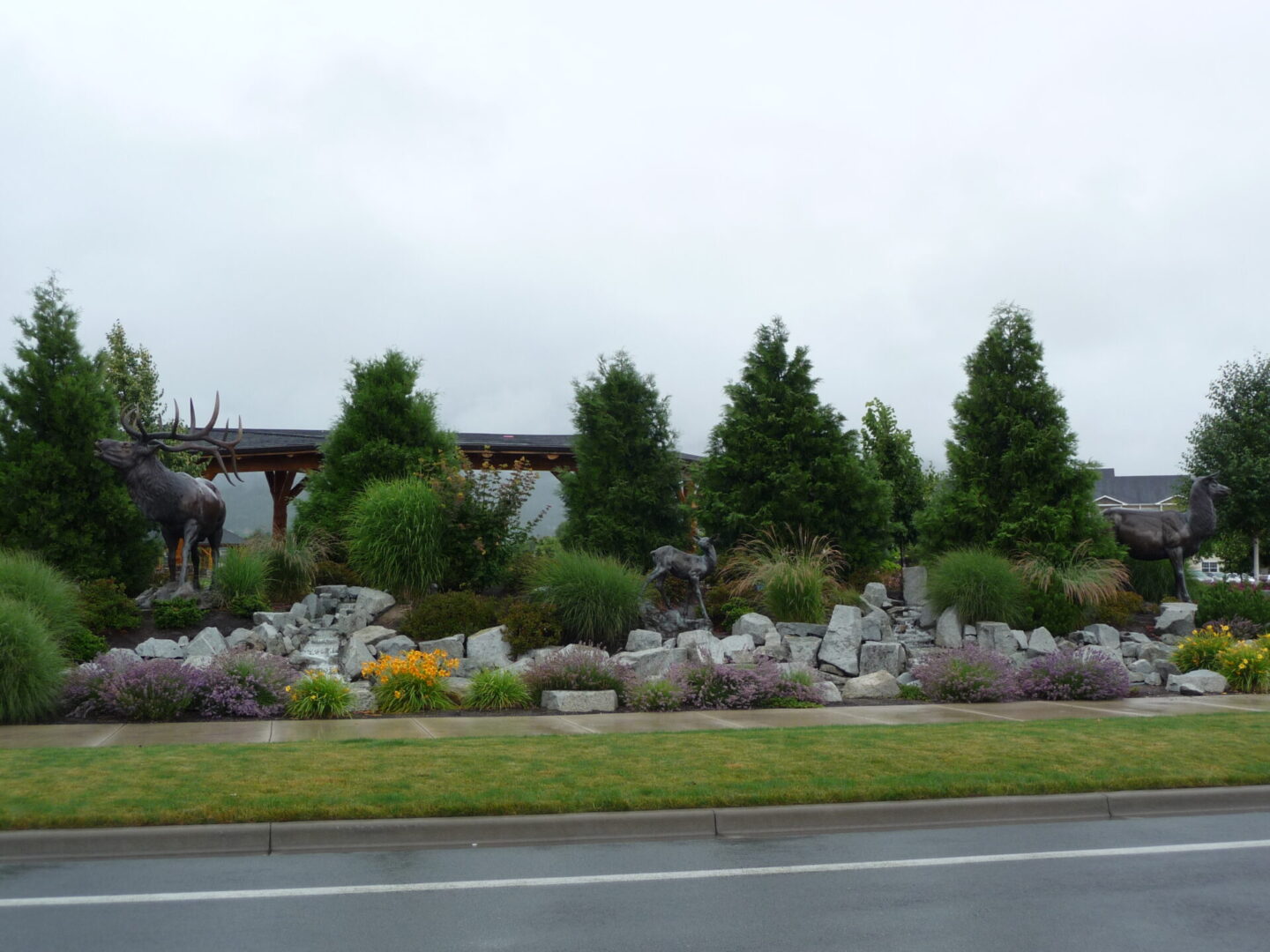 In setting an example for the community to emulate Governmental Landscaping needs to be mindful of sustainability, water conservation, healthy urban forests, cost-effectiveness, and perhaps most importantly, safety. A thoroughly vetted Landscape Plan is mindful of all of these elements and draws on the expertise of a number of different professions to achieve these goals.
I have experience in not only the local cities, including Medford, Ashland, Grants Pass, Central Point, Eagle Point, Phoenix, and Talent, but also with Jackson and Josephine Counties as well as the State of Oregon.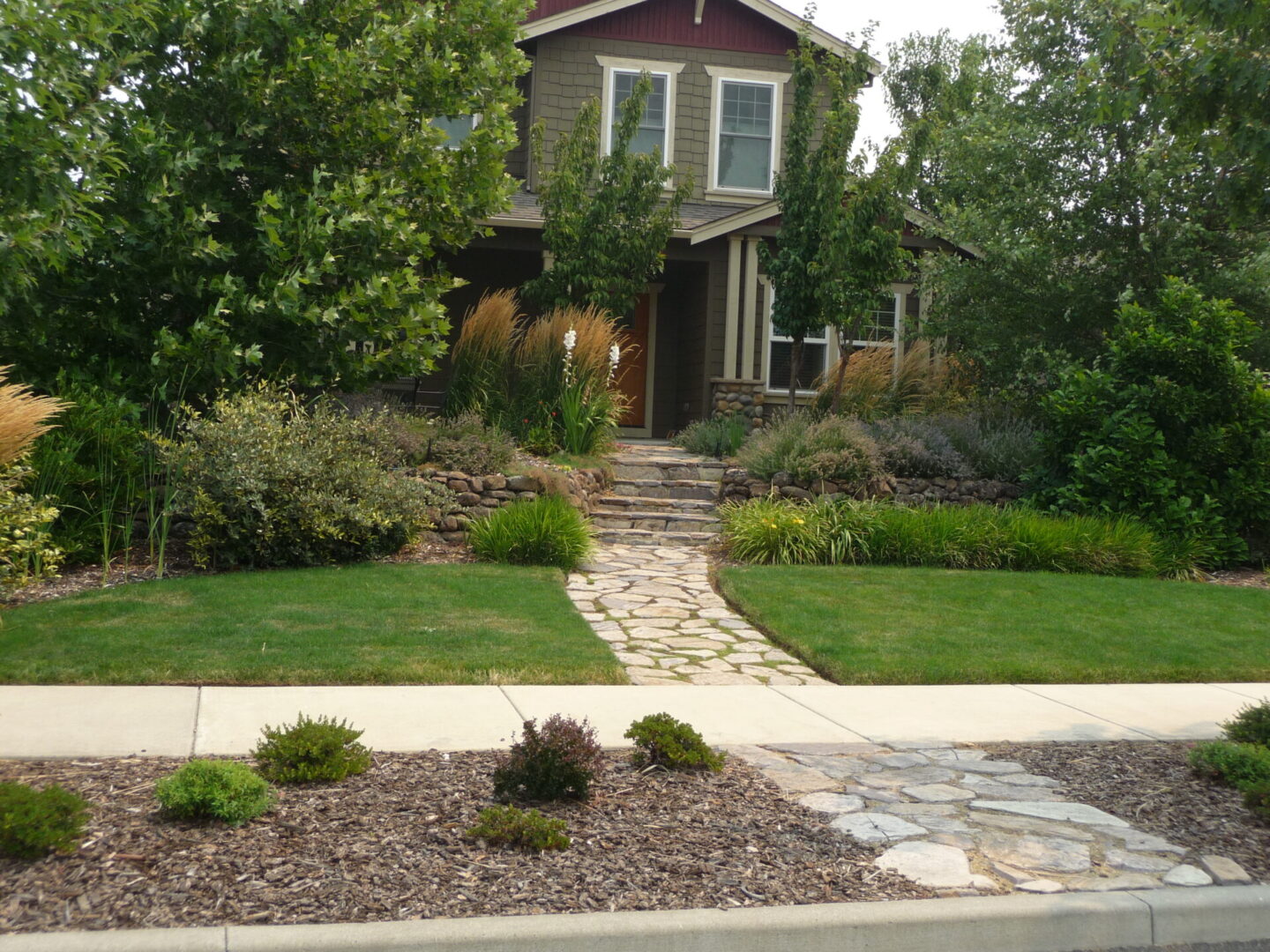 When you want someone to help with a question, you have most people want someone with the ability to listen to your situation, take in all of the relevant information, digest and organize the important pieces of the puzzle and give you advice that you can use and understand. Landscape Consultation takes on any number of possible issues and concerns in an attempt to better understand a sometimes complex situation that may involve several intertwining elements that have a compounding relationship to one another.
Landscape Consultation includes the help you may need during the course of construction. Although having a plan is imperative to a successful installation, there are invariably unforeseen things that occur. Often these impact portions of the design and need to have answers that maintain the original intent. You may need someone with professional experience to act on your behalf and ensure that the installation is done to your wishes.
It is in these situations that you need someone with a varied background like me.
Years of formal education, practical experience, and the knowledge of complementary disciplines allows me to make well timed and thorough assessments of landscapes, trees, grading, irrigation, lighting, and drainage issues. People who know me often compliment me on my ability to solve problems with a minimum of complexity. In addition to having diverse, relevant work experience, my years of work in the Rogue Valley have given me many relationships with complementary professionals. When I don't know the answer, I usually know someone who does.
Most of every existing landscape has at least one, if not several, trees. Every new landscape is planned to have trees as well. They are the foundation of any enjoyable site providing shade, screening, balance to the surroundings, color, and seasonal interest. Their health and well being is of critical importance to a vibrant landscape. Healthy trees add value to any property and help to sustain a balanced environment.
As beautiful as they can be, trees are living things that are subject to many outside influences that can either help or hinder their continued growth. Assessing the condition of trees takes a trained person willing to take the time to thoroughly investigate all of the aspects of a tree's health.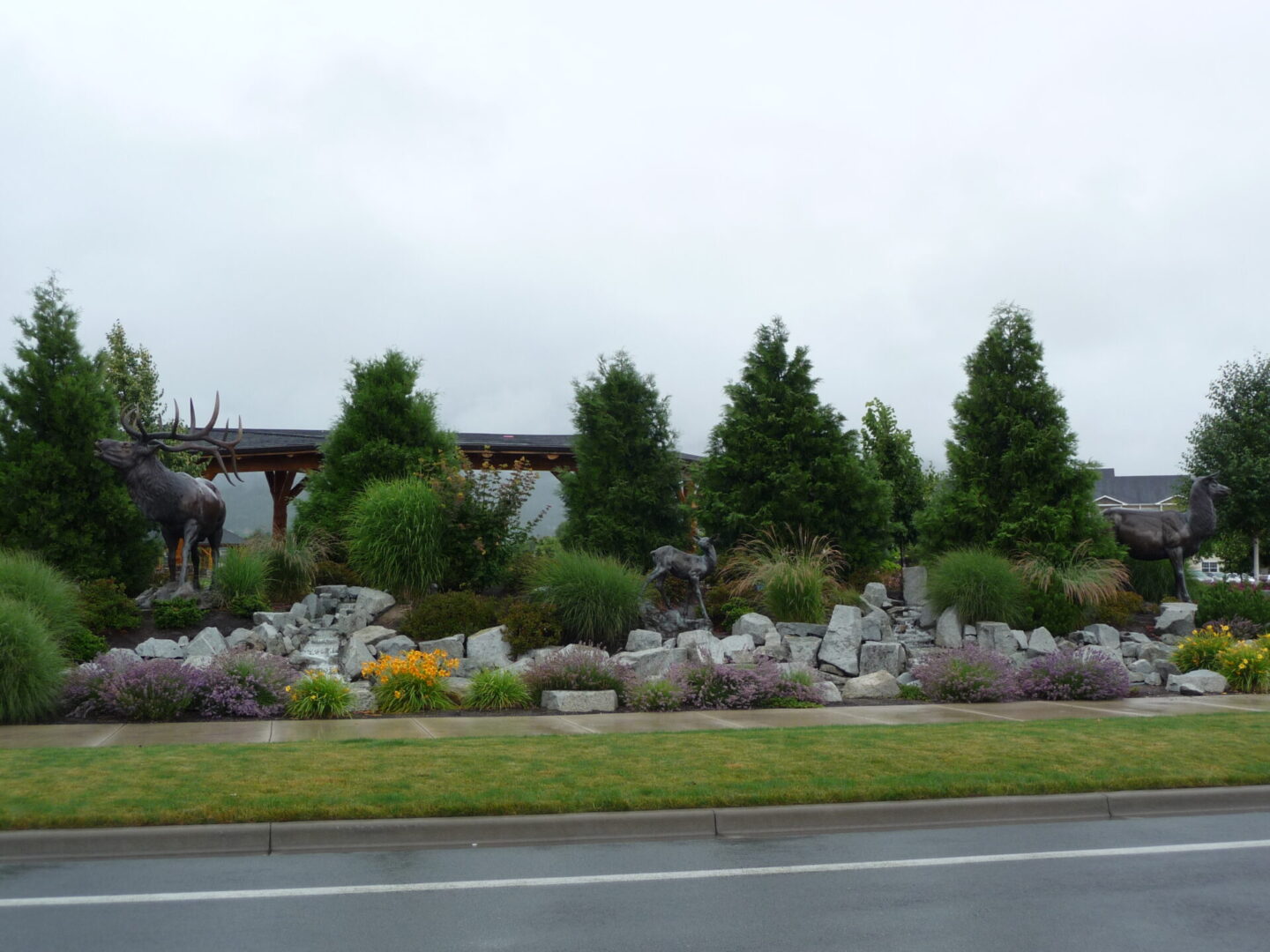 It is important to understand that all plant materials, trees, shrubs, and ground covers have a difficult time letting us poor humans know that something is even wrong. Unfortunately, by the time we observe a problem, it's often advanced stage and may not recover. Likewise, if we are able to implement a solution, we may not see the results of our efforts for quite some time.
I am an International Society of Arboriculture Certified Arborist. I have been involved for years in the skillful pruning and care of trees and shrubs of all shapes and sizes. I spent several years in Portland working under the guidance of a Japanese Landscape Professional learning the art of Bonsai Pruning.
All of the skills I have developed are supported by the yearly required continuing education that being a Certified Arborist requires.
Additionally, if you are in the position to be developing properties, several local municipalities are requiring a review of trees that may be existing on your site. Whether you plan to maintain the trees or are looking at how they impact your planning, it is best to know the range of options you might have. I can assist you in your development by ensuring a smooth flow of information.